Kayakers in Manaus! Now for the Final Leg of the Journey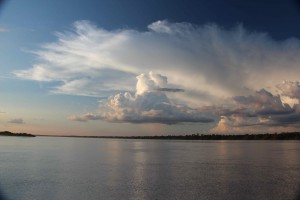 .
Well now I've done it.  I have thoroughly embarrassed myself on the blog.  My blog posts are rife with spelling errors and my most recent English Language transgression is that I confused the word "boarder" with "border."   Thankfully Midge was able to harness the stars (well the satellites at least) and fix my errors with his BGAN terminal after only 2 weeks of them being online…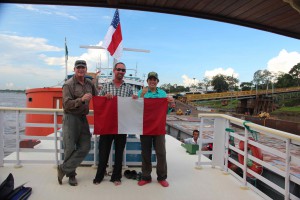 Luckily, I've never let a little embarrassment slow me down.
For you few readers out there, I do have 3 excuses for my mistakes which will hopefully render them forgiveable in your minds.  They are as follows:
1.)  The spell check function of Word Press does not work on the Spanish and Portuguese speaking computers I am using here along the Amazon.  This, sadly, is exposing to the world (or at least to the 5 people who actually read  the blog) my pathetic spelling prowess.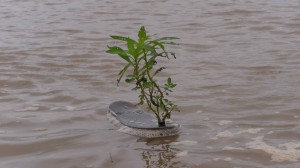 Many of you computer gurus out there might say, "why don't you copy and paste your blog into Microsoft Word (or write the bog in Word and copy to Word Press afterwards), which will then recognize that I am writing in English and I can spell check from there."  Well for all you people, see excuse #2.
2.). Amazonian Internet cafes are places that I would like to spend the least amount of time possible–and yes, even seconds matter here.  They are all terribly, hot, crowded and loud.  Typically they are have both computers and phone booths.  Most Peruvians and Brazilians, it seems, like to stand outside the phone booth and yell as loudly as possible into their end of the phone receiver.  So, this excuse makes both the Word spell check not plausible and it means that, irregardless of any spelling errors, typos, and any other bad form of writing that I may make, I just "can't be bothered" and want to get the f outta there ASAP.
3.). I am just a big dumby–as evidenced by my decision-making process which lead me to be here doing, and blogging about, this trip to begin with…
Yet, having laid out all my very legitimate excuses, I still do want to offer my most sincere apologies.  In the past, I have been intolerant of other people's similar mistakes in their websites, blogs, and even emails.  And now, I realize that I have been being too hard on the world at large, for surely each and every one of these mistake-makers must have valid excuses of their own.  So I thank the Amazon for helping me to see the error in my hypocritical ways and for teaching me to be more tolerant.
Now, onto an update (and just for consistency's sake, I am not going to spel chek this blog either):
We have made another major milestone in our trip—Manaus!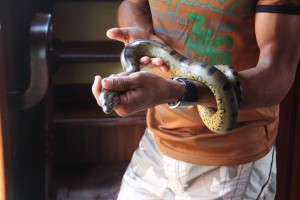 We made it to the confluence of the Rio Solimoes (what Brazilians call the Amazon) and the Rio Negro on November 6th a little after 6pm, just as it was getting really dark.  We could not see the black water of the Rio Negro from our kayaks because it was so dark, but once we loaded onto the Perolita and added a little height to our perspective, we could very clearly see the brown versus black line in the waters, even at total darkness.  It was very impressive and the Rio Negro is HUGE.  We are looking forward to seeing it in the daylight on Monday when we hope to start the final leg to the sea.
Our arrival to the Perolita was a little tumultuous.  It was great because there was a big storm approaching and so we got really nice sunset colors and the pink dolphins were very active just before dark.  But then it started raining like crazy and got very windy.  Because of a shallow sand bar, we had to land on the Perolita out "at sea" (obiously not really at sea, but it felt that way because the 2 rivers are so big and the line between them so rowdy).  There were huge waves, rain and wind which made the whole process a little tricky.  I almost lost a Croc—yes, Crocs are my Amazon footware of choice–but luckily it was recovered!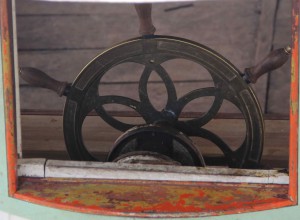 That was day 103 of our trip.  We plan to spend 4 days in Manaus.  If we can pull it off logistically, we hope to leave Manaus on Monday, Nov. 11th and then will have about 30-35 days left to the ocean.  So, the goal is actually within sight now!
We hope that our departure from Manaus will be a little bit smoother than our departure from Tabatinga was.
Actually, we left Tabatinga with no real issues on October 14th.  It took a while for the paperwork to be finished and for the Federal Police to come search our boat, but at 5pm they told us we could start paddling, and so off we went.  The late start was fine with me as I was still recovering from a very violent stomach illness.  We only got in about 1 hour of paddling before it got dark; but still we were happy to be on our way again.   But alas, we woke up the next morning to find out that the Marines had missed one piece of paper and that we had to motor back up to the border to complete our "departure papers."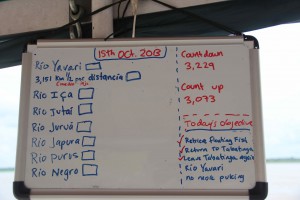 So, off we go, motoring back to Tabatinga.  Amazingly, even though we were in a hurry to get this done, about 20 minutes into the journey back upstream, the Perolita cut its engines and the launch (skiff) zoomed off behind us.  Originally we thought maybe something fell off the Perolita, but oh were we ever mistaken!  Edgine came back after about 5 minutes with a comparatively small fish (maybe 10 inches long).  When we asked him what he was doing he said, "I saw this fish and had to go get it!"  When I asked how it saw it, if it was caught in a net or something he replied, "Oh no, it was floating belly up."  When Don asked if it wasn't bad to eat fish that had died of some unknown cause, he said, "look it's not dead" showing us it still moved a little bit, and then added, "and I'm going to give it to my friend when we get back to Tabatinga."  What can one say to that?  Hence the updated whiteboard.  And if you want to know, I did successfully NOT puke this day.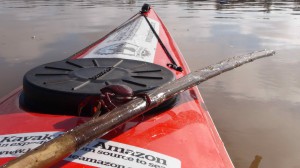 Yet, despite all the oddities, for a trip of this magnitude, things are going surprisingly smoothly.  We are making pretty good progress these days and, still, at least one interesting thing happens every day!  Some examples of "interesting things" are:  Dragon fly passengers on our kayaks or clothing, more exciting dolphin sightings, seeing a new and very impractical kind of motor boat where they have a hole in the middle of the dougout canoe in which they set a motor (think a lawn mower moter) that propels the boat and then a "steerer" sits in the front with a wooden paddle and acts as a human rudder.  It's the little things that keep us going!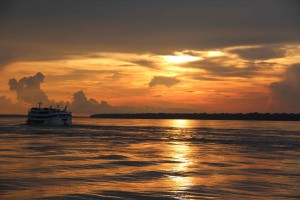 When I am a feeling bored or grumpy I am sometimes tempted to write in my trip journel "nothing notable happened today."  But each time I try to write this, I remember something of note that did happen.  So, in 103 days, I still have not made this journel entry.  Let's hope I can make it to the ocean without writing that phrase.
Once we leave Manaus we will find some new challenges.  The wind has steadily incresed over our last week of paddling which means there are bigger and bigger waves in the river.  So far, they haven't been difficult to kayak in (expect that they do slow us down a bit) but they do splash over our spray skirt tunnels and cause us to have to sponge out much more often.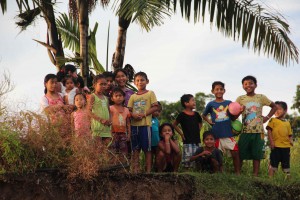 Soon we will start feeling the effects of the tides as well.  Hopefully we can paddle through the incoming tide at first, but eventually we will have to start waiting out the incoming tide and paddling only during the outgoing tide.
The river is getting so big that it is becoming a major undertaking to go to shore each night for camp.  Just to give you an idea of how big it is, last week we were paddling about 100 feet from the right bank when the Perolita discovered that the right channel was too shallow for them and that we would have to cross all the way over to the far left channel.  The ferry to the left channel took us 45 minutes!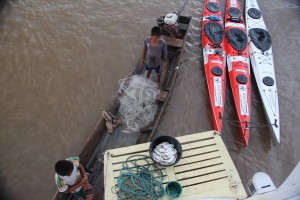 But I'm sure that with every kilometer that we paddle our excitment about hitting the ocean will only grow and our new found trials won't bother us much!
I don't think we will get internet again until landing in Belem hopefully AFTER we have drank salt water out of the Atlantic Ocean.  So until then, follow our Spot Tracks and wish us luck!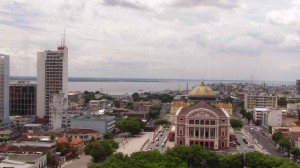 Oh, and PS, Rachel–Midge's better half–was here visiting us from London–thanks for bringing us gloves Rachel!  Thanks for your contribution to all of us not losing our fingernails!  While she was in Manaus we did a little sightseeing.  We took a tour of the Opera House–Teatro Amazonas–and then got a bird's eye view of it from the "girating" bar (rotating bar) on the top floor of the Taj Majal Hotel (yes, we are in Brazil, not India, and I have no idea about the name, but their spinning bar is cool).  And my personal favorite of the day was that our tour ended with the model of the Opera House built out of LEGOs.  Classy!