Making Our Way Down the Amazon
Photos and a more thorough update will follow when we get to some descent internet, but here is a quick account of our last 4 days: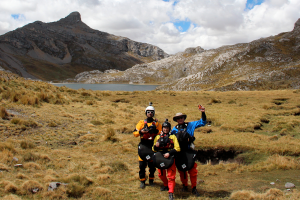 July 28th Don, Darcy, Midge made it to the source of the Amazon!  It is a beautiful place, and we all feel lucky to have made it this far.  We saw flamingos on the drive to Lago Acocacha (which we paddled across to reach the source) and saw a Condor on our paddle across the lake.  On top of this, there have been amazing wet land birds many species of which are new to us.
July 29th We started our morning with van troubles and so got a very late start on the river.  Luckily, the locals in a nearby town were more than happy to help and after a couple of hours they got us on our way.  Partly because of our late start, and partly because of the slow going that is "kayaking" the Amazon near the source, we did not make our car camp destination.  We thought this might happen and were sure to bring our bivy gear; but it was a chilly night nonetheless.
July 30th We all slept reasonably well considering but the morning was certainly a test of our committment!  Our kayaking socks and booties were so frozen that we literally could NOT get them on.   After trying to snuggle with our shoes in our bivy bags, sitting on them, spooning with them, and eventually dipping them in the river to get them pliable, we got the shoes on and set out again.  West was kind enough to walk the 3 miles upstream from the car camp to bring us water and boost our morale.  We made it to the van mid morning, had lunch and then set out again.  There was very little kayaking to speak of today, but lots of dragging the boats.
July 31st Spent most of the day carrying and dragging our kayaks along the Rio Gashon.  In the afternoon, we hit the Rio San Juan and were able to paddle a little bit.  Just enough to remind us that, "ah yes, we are here to go kayaking!"
We can not wait to get to some HOT weather.  It is rather cold up here near the soure of the Amazon!
Rio Amazonas here we come.